GRAPHIC DESIGN \ ART
ILLUSTRATION \ WEB DESIGN
GRAPHIC DESIGN
Hello. I am Ros (Jelbert) Ingram, a Freelance Graphic Designer, illustrator and artist with over 35 years' experience of studio / freelance graphic design based in Southampton, Hampshire. I work with businesses of all sizes who are either starting-up or developing; whether you need a complete brand identity, a redesign of your website or a new creative route, I'll work with you to create something that not only looks fabulous but gets results. My freelance clients have led me to design for a wide range of business sectors; this variety in my work builds and maintains a fresh way of thinking. Previous design clients include World Sailing, Skandia, Bacardi, Remarkable Group, New Look, IGP Media and 6G Creative. Based in Southampton, Hampshire, I work with clients all over the country, both remotely and in-house, and I'd love to discuss your requirements.
CONCEPTS
A creative concept is that all-important unifying theme that can be used across all campaign messages and communication channels. It is that 'big idea" that captures audience interest and inspires them to take action. I will present creative ideas for a one-off project or explore how an idea can expand to a full campaign and determine if it will work across multiple media channels.
IDENTITY
A unique and memorable logo that communicates the correct brand message is paramount to any company, large or small. Logo and brand identity design is an integral part of any successful business and, when done correctly, will make a business more profitable, attracting the desired target market. As a freelance graphic designer I can offer creative design solutions specifically to your requirements.
LITERATURE
Lliterature can still play a key factor in spreading the message about your brand, service or product. - whether printed or digital. Posters, emailers, banners, flyers, brochures, adverts, exhibition banners, signage and vehicle graphics, for example, all help to increase awareness of your business and bring you new customers. I work alongside several printers to offer projects on time and on budget.
ONLINE
Whether I am creating an online advertising banner, social media graphics, an emailer or a new website, I will work with you to ensure creative impactful designs every time. I offer website designs which not only look great, but which are also simple to use by both you and your visitors. As standard, our website designs are SEO primed, and responsive, so they look and work perfectly on any device.
"Ros, you have truly been a life saver. The way you've just picked everything up and been on hand to support has been amazing and I am so grateful to you - thank you." H. Strzelecki, World Sailing.
"Ros initially produced one press advert per month. Her positive attitude and creative suggestions meant that she quickly became a pivotal member of our team and she now produces all of our press adverts, online material and customer services literature. Nothing is ever too much trouble and the quality of her work reinforces our industry leading brand and high quality image."
Michelle Howles, Marketing Director, Affinity Leasing.
"Ros has provided us with a book design that has captured everything that we wanted - clean, sophisticated and elegant. As an added extra, she has provided stunning illustrations that work so perfectly with the imagery provided, adding a unique and stand out style to the book. Zanna is over the moon with Ros' work."
Emma Robinson, Personal Assistant, Zanna van Dijk.
ILLUSTRATION
I am a freelance illustrator based in Southampton, Hampshire and work for many different clients, large and small. Previous clients include The Tower of London, Zanna Van Dijk, Plan UK and the Remarkable Group. Illustrations add a unique aspect to companies' literature or can help strengthen a message. I have several different illustrative styles; computer drawn illustration, pencil drawings by hand and a looser hand-painted style. Previous projects include illustrations for books, videos, menus and corporate literature. One of my more unusual illustration projects was to plan and illustrate an overseas theme park! If you would like to see further illustration examples please get in touch or view my mini portfolio here (.pdf). My most recent project is a catalogue of NFT digital artwork which I am hoping to list on kalamint.io soon
"Ros brought my ideas for my children's books to life - I had visualised the characters for so long, and then there they were on paper... Thank you!"
Karen Murphy.
"Ros, the illustrations are fantastic. We are really pleased. Thank you so much for your hard work and effort on this."
R. Thompson, Remarkable Group.
ART &
PORTRAITS
I love drawing and painting in different mediums and my passion is for portraits; I love undertaking commissions to capture a special moment - or a special characterful face - human or animal! To get started just send me your good, clear photos and I will contact you to discuss composition etc. Or, if you prefer, you can order through the link to Not on the High Street or Etsy below - just keep scrolling down! Click here to view PORTRAIT PRICES (.pdf format).
I recently ran a pet portrait offer over on Instagram (@rosaindingram), in a bid to keep busy and spread smiles during the Coronavirus lock down. I have taken all the lovely #isolationbuddy portraits from this offer and created a poster which you can view and download .pdf format here or in jpg format here.
"Thank you so much. The picture arrived today - it is absolutely fantastic. It brought tears to my eyes when I saw it - you have done a brilliant job. I really appreciate you getting it here so early. Thank you very much." Kelly, Boston, Lincs.
"You have an amazing gift and I will be forever grateful that our paths crossed. Your picture of Dotty is so full of her energy that when I look at your drawing I really sense her presence. Thank you so much." Ursula, Poole.
WEBSITE
DESIGN
Working closely with a web and IT genius (based in Southampton, Hampshire) we offer creative and affordable web solutions. With many years' design and web experience, we still love what we do and this shows in our work. If you are a new business looking for a simple website presence, or an existing company needing to revamp your website, we will work with you to deliver an innovative website design solution that works for you.
Services include: logo design, copywriting, illustration/photography, content management, web hosting, email addresses, contact form and Search Engine Optimisation.
As standard, our web designs are SEO primed, fully responsive and optimised for different screen sizes, so look and work perfectly on any device. We are based in Southampton but work with clients all over the country so please get in touch to discuss your requirements.
"Redesigning my website with Ros was effortless, efficient, reasonably priced and much quicker than I'd originally anticipated! Ros is a pleasure to work with - her designs are attractive and contemporary and I have no hesitation in recommending her services to anyone."
Lisa Lagadec, Spring Chiropractic.

"Ros Ingram has consistently provided real personal care and unrivaled design and up-to-date web skills for my business websites. It is rare, perhaps unique, to find a trained high quality graphic designer, closely linked with a highly skilled webmaster. I would encourage all business owners, large or small to contact Ros to transform your present, possibly tired website, into something beautiful, practical and innovative."
Graham Swain, Earth Architecture / Artswain.
---
RECENT
PROJECTS...
'DAXIE WARHOL' T-SHIRT DESIGN
Just for fun! The Netflix show of this famous artist inspired me to design this bright and eye-catching graphic. I have wanted to try out Everpress so this was the perfect opportunity. It's now ready to purchase - so click here to take a look!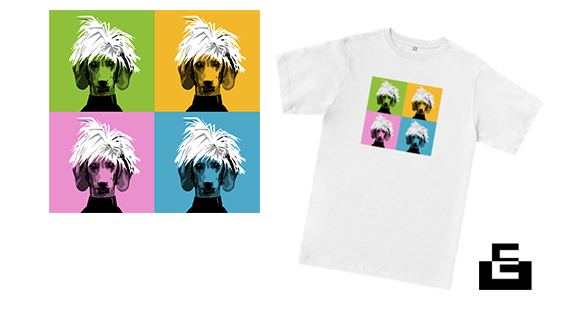 ---
---
---
PET PORTRAIT
I always have lots of beautiful pets to draw - of all sizes. This is Bertie - commissioned as a surprise leaving gift - Faber Castell Polychromos colour pencils on Bristol vellum paper. "The portrait has just arrived. You really are very clever and have done an amazing job." Kelly.
WE SHOULD
TALK...
I'm Ros Ingram and I have been working happily as a freelance designer, illustrator and artist for many years. I started work as a DTP operator many moons ago and progressed to Studio Manager with Ryan EMO Advertising Agency, where I spent over 9 years. Now I love the variety and challenges of freelancing and I always welcome new projects to sink my teeth into. I enjoy getting to know the people behind the business and working directly with them to get them where they want to be.
If you'd like to see more work or to discuss your project please contact me at mail@rosingram.co.uk or call me on 07983406623 .